Tower Hamlets Numismatics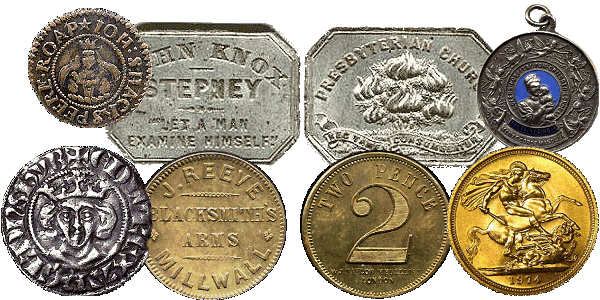 This site is intended both to show the range of numismatic items from the area and also to provide detailed listings for those who require more information.
Definitions
Tower Hamlets:

The London Borough of Tower Hamlets was created in 1965 by the merger of the former boroughs of Bethnal Green, Poplar and Stepney.

Numismatics:

The collection and study of money (and coins in particular)

Coinage:

Small pieces of metal, usually, flat and circular, again usually, authorized by a government for use as money.

Tokens:

Coin like objects exchangeable for goods or services but not authorised (some rare exceptions) by a government for use as money.

Medals:

A flat piece of metal (not always) stamped with a design or an inscription commemorating an event or a person, often given as an award.
version 2.12 - Last updated February 5th. 2022