Meet Charles II of Limehouse.
Who is Charles II of Limehouse ? Why, the second Charlie Brown, of course, son of the Charlie Brown whose name became famous right throughout the world, and whose tavern in the West India Dock Road attracted many thousands of visitors. He was a wonderful old man, and when he died there were many who said that Limehouse would never be the same place again. 'And,' they said, 'there'll never be another Charlie Brown.'
But they reckoned without the son, Charles II is indeed a chip off the old block, and he well maintains the high tradition which was early established by his father. He has made his own tavern, 'The Blue Posts,' as popular as was the old house of his father.
As was his father before him, Charles II is a great collector, and his museum is of very considerable interest. But more of that museum later. It is about three years since the famous Charlie Brown died, deeply mourned by his many friends; charabanc parties used to be taken from the West End to see him and the notable tavern which he conducted with such ability. And now they make a point of calling at the equally famous 'Blue Posts,' and Charles II meets their requirements just as well as did his father before him.
They find much to interest them. There is the man himself, for instance. He always carries nine watches. He used to do this only occasionally, but an enterprising pressman announced that he always wore the nine, and now people expect to find him a. sort of travelling jeweller's- shop. So he always wears the nine now, so as not to disappoint the many sightseers from all over the world, At this remarkable tavern he has a collection of interesting antiques and other articles. Sometimes as many as eight charabanc loads of visitors arrive from the West End to see his museum and to inspect the tavern.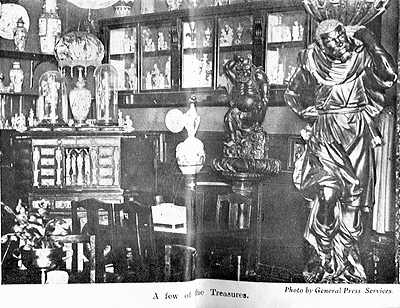 In his museum there are Ming vases 2,500 years old. There are Chinese and Japanese carved ivories. There are miniatures by well-known artists. There is a fine Italian carved wooden bureau of ingenious design, all kinds of medallions, various types of pipes. including an opium pipe and its adjuncts. There are also Chinese playing cards. Here it may be mentioned that Chinamen are usually buried with money in one hand, playing cards in the other, and a roast pig is thrown in after.
Another interesting exhibit is a tiny model of the Liverpool Street - Harwich boat train, wrought in gold and silver by a retired jeweller, The time taken by the real train is 2 hours, and when this model operates it takes exactly the same time to cover its own track - about a yard long. There is a clock that works by dripping water, a collection of some 500 coins, and a key from Bruges cathedral weighing over two pounds.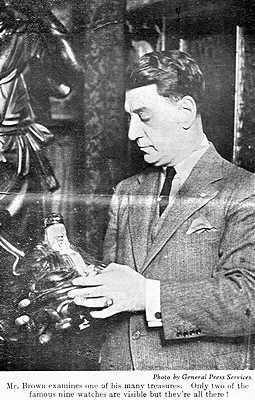 Now about Charlie Brown himself. This man with the nine watches carries a tiny one in his buttonhole, another is set in a finger ring; there is one on each wrist, whilst five are distributed over his waistcoat, He always wears a straw hat, no matter what season of the year. One humorist who had noted this sent him a straw hat about six times the size for any normal head, and this outsize hat hangs in the bar parlour.
Among the bars is a special Continental bar at the back. It is used solely by Scandinavians, Russians, Chinese, Japanese, and so on, for the ' Blue Posts' is an international resort. It is not only one of the most interesting taverns in the London area; it is a show place, but it is also a place where one can enjoy Taylor Walker's prize beers in pleasant surroundings. It has the nicest lounge in the East End, It is emphatically a place to be visited by all who would know their London.
The 'Blue Posts' is situated at 73 West India Dock Road, London, E. 14. But just inquire for 'Charlie Brown the Second.' Everybody for miles around knows where he lives.
'THE BLUE POSTS,', West India Dock Road, E.
By FRED. WALLIS,
A good example is a priceless thing;
It keeps alive the virtue in us all;
And nothing bad can ever from it spring;
It shines like daylight where the shadows fall.
A bad example is the sheer reverse;
It breeds a vice where virtue might have been;
It leads a man to go from bad to worse —
The saddest sight that ever yet was seen!
For good example take thy footsteps here;
A. well-kept tavern in an old Dock town,
Where foreign sailors in their crowds appear,
Draw to mine host, the Junior Charlie Brown.
Who dogs the footsteps of his worthy sire,
Host of the tavern just across the way;
A man whose virtues all who knew admire
And all who know, the wide world o'er are they.
Father and son as friendly rivals trade
With all the zest that ever tribute won;
And every visit to the father paid
Entails, of course, another to the son!
And sometimes, too, the other way about;
Though many, p'r'aps, to this old inn adhere,
Because of what they cannot do without —
The prize-won flavour of TAYLOR WALKER'S beer.
When London lies a-sluggard in the West,
And six o' morning chimes the truthful clocks,
The old 'Blue Posts' is up and in request
By those who gather at the sleepless Docks.
The call for rum is like a choral cry;
And as for Burton, its a perfect wail;
And later on, when dinner-time is nigh,
Oh — what a crowd is waiting to regale !
For ninepence is the price, and that is all;
The nimble ninepence for a good square meal;
That's what a fellow in his heart will call
The very essence of an honest deal.
Here come all kinds, of ocean-going men,
The birds of passage from the Lord knows where,
Who often leave until they come again
Their earthly treasures in young Charlie's care.
And here, of course, the 'Druids' in numbers meet,
For good of heart is what they cherish most;
And here it is in fellowship complete,
Thanks to young Brown, my gentlemanly host.