MILE END OLD TOWN, 1740-1780
A SOCIAL HISTORY OF AN EARLY-MODERN LONDON SUBURB
by DEREK MORRIS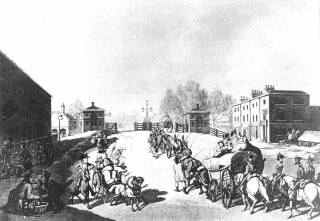 THE FIRST BOOK TO BE WRITTEN FOR OVER TWENTY YEARS ABOUT THIS UNIQUE AREA OF EIGHTEENTH CENTURY LONDON
IN HIS PREFACE DR. STEPHEN PORTER OF ENGLISH HERITAGE, AND AUTHOR OF THE GREAT FIRE OF LONDON HAS WRITTEN:
"By concentrating on a forty-year period of the eighteenth century, Derek Morris has been able to complete an intensive study, looking at many aspects of the fabric, economy and society of this substantial and surprisingly varied community near to London. This is an invaluable book for those interested in this fascinating area, historians of London, and indeed for urban historians of the eighteenth century."
This book is sold out. Sorry, no more paper copies available for sale.
Second Edition 153 pages £9.60
email ELHS for payment details.