A Publication from ELHS member Jennifer Worth SRN SCM
Call the MIDWIFE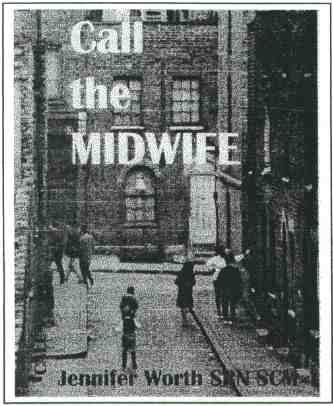 Jennifer Worth was a district midwife working with an order of nuns, going around Poplar on a bicycle in the 1950s, when the East End of London was still ravaged by wartime bombs.
The docks were fully operational and employed most of the men. The bug-infested tenement slums housed tens of thousands of people and overcrowding was chronic.
Family life was close and families were large. Women clung to the traditions of their mothers and at least 50% of Poplar babies were born at home - by gaslight. Water often had to be carried in and boiled up in the copper for the midwife's use.
The conditions in which many women gave birth just half a century ago were horrifying, not only because of their grimly impoverished surroundings but because of what they were expected to endure. This is how it was when Queen Elizabeth II began her reign.
CALL THE MIDWIFE describes, with humour and with poignancy, Jennifer Worth's experiences. She saw brutality and tragedy at first hand. She met with amazing kindness and understanding and she learnt to love the Cockney character. These many different and moving stories reveal that here is an author who may truly be called the James Herriot of the nursing profession.
Published July 2002 by Merton Books.
ISBN 1 872560 10 5
£14.99, + postage £1.75
e-mail Merton Books for orders and further details.
(The above text has been taken from supplied publicity material.)