Who made it?
Very few examples of salt glazed stoneware are marked before 1870, unless you are lucky enough to possess items by Briddon (Chesterfield) or Kishere (Mortlake).
The most useful guide to identification of an unmarked item is the sprig under the handle (with the exception of Doulton these are rarely copied).
Below are the 5 most readily identifiable makers in alphabetical order.
Denby
Vine leaf variants 1850s on.
1840s?
Doulton

Most small sizes, 1870 on
Small sizes, 1850s-60s?
Most medium & large sizes
Fulham
Standard for all sizes
Smith
Standard for all sizes
Stiff

Small
Medium
Large
Note
Doulton terminal sprigs were copied by Port Dundas (Glasgow) and Fulham but usually identified with making pottery's name.
Stiff terminal sprigs were copied by Doulton for their "old style range" but again marked with maker's name.
Smith copied Doulton and Stiff body sprigs but retained their usual handle terminal.
Although this covers probably 80% of all jugs (and tankards with handle terminals) you may well see items with terminals like these: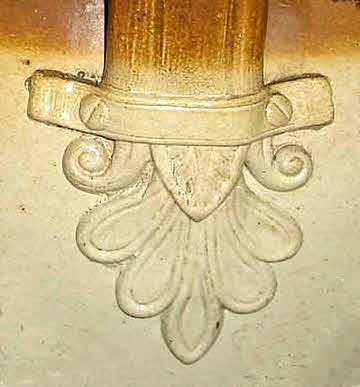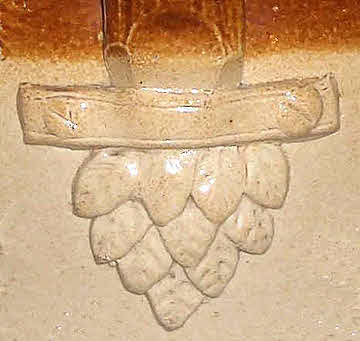 The left terminal is discussed under Unidentified maker 1 and the right is called, rather unhelpfully, in reference books "Standard English Terminal" or SET.
Leafy terminals exist in many variations but were definitely used by Bristol (Price and Powell), Kishere (Mortlake) and Vauxhall.