Unidentified 4 - Chesterfield/Brampton or Denby ?
Click on any segment to magnify it.
There are several series of jugs from this maker, or is it a gradual progression?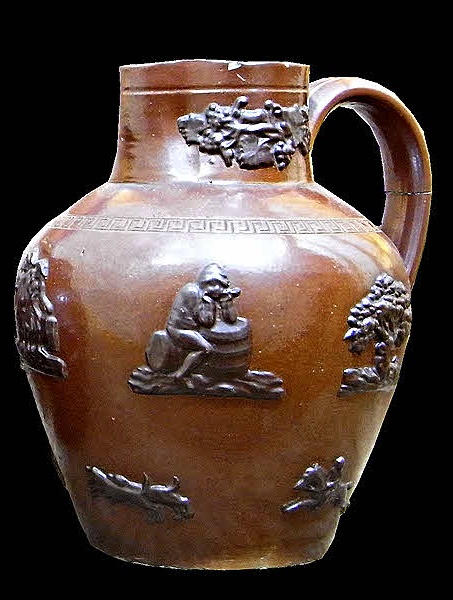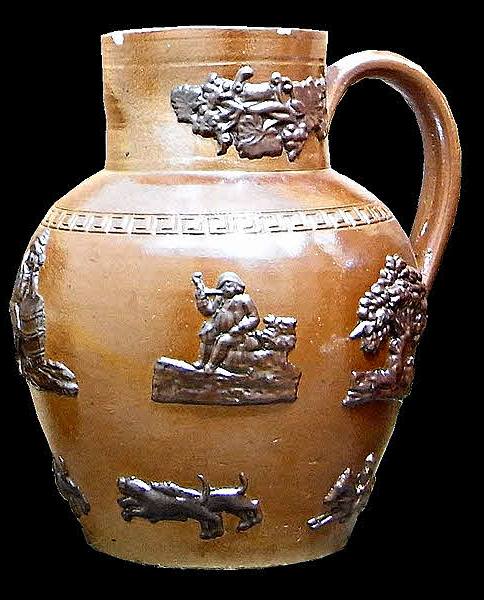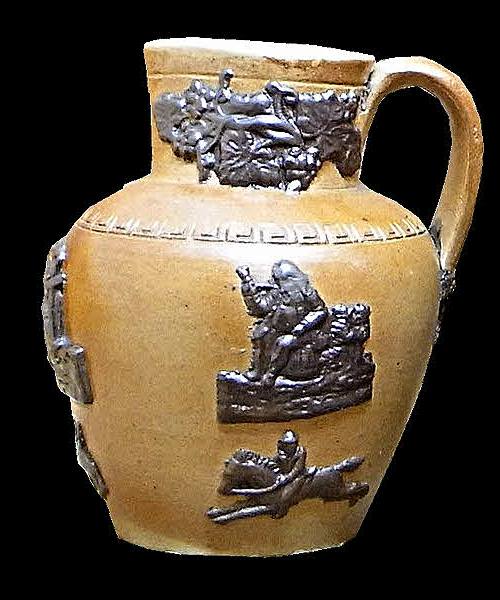 Uniformly dark salt glazed jugs with almost black sprigging. Half to six pint sizes recorded, all with greek key design around the shoulder and with or without grape vine sprigs on neck.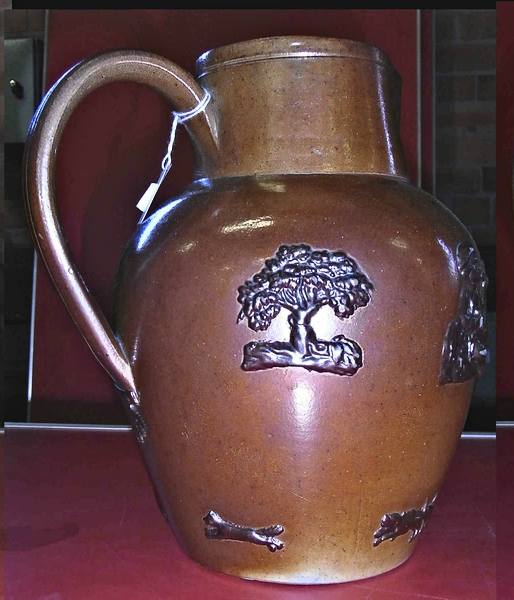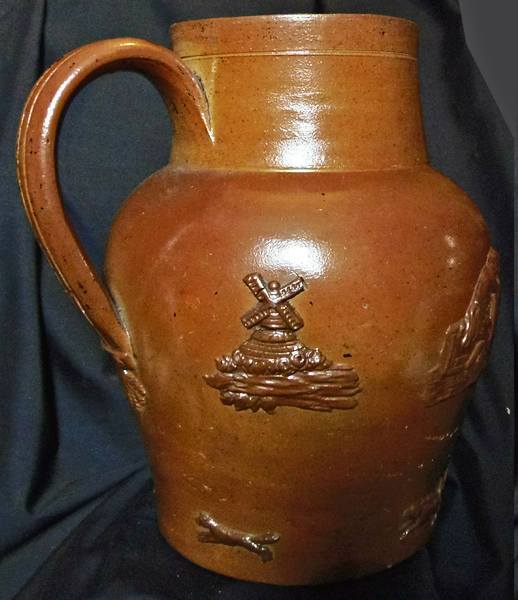 similar jugs with unsprigged neck and without Greek key design. Body sprigs may match body colour or be darker.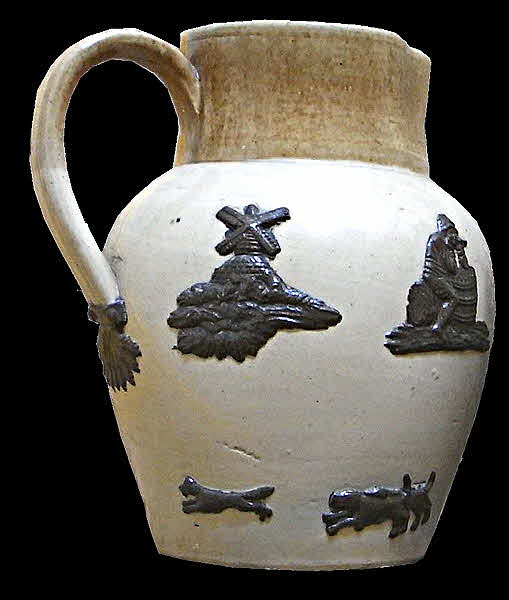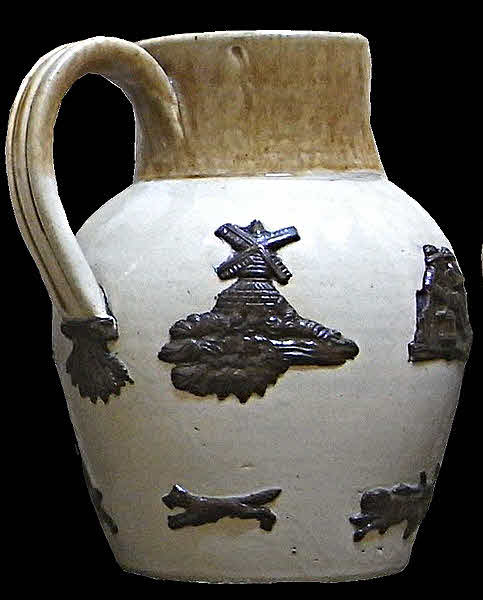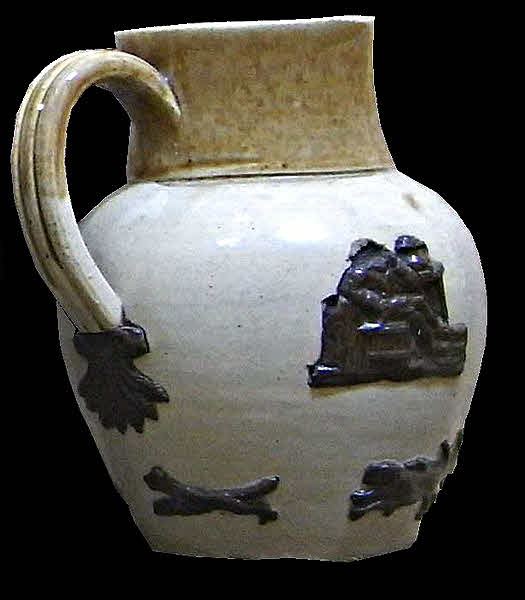 Cream coloured jugs with light brown neck and the same dark sprigs as other series. One, two and three pint jugs seen.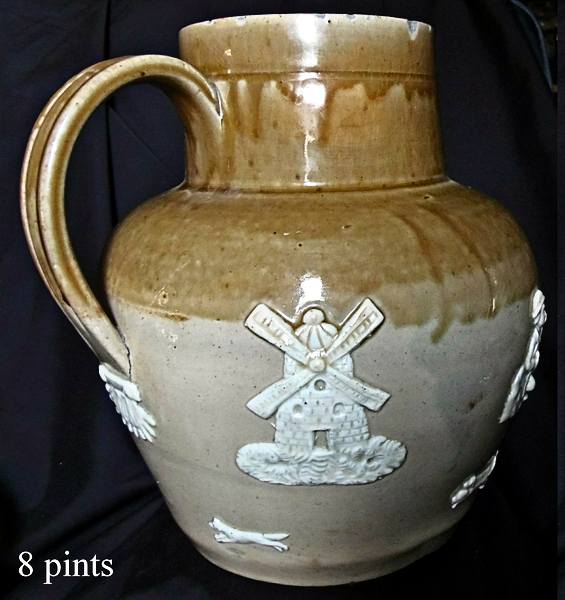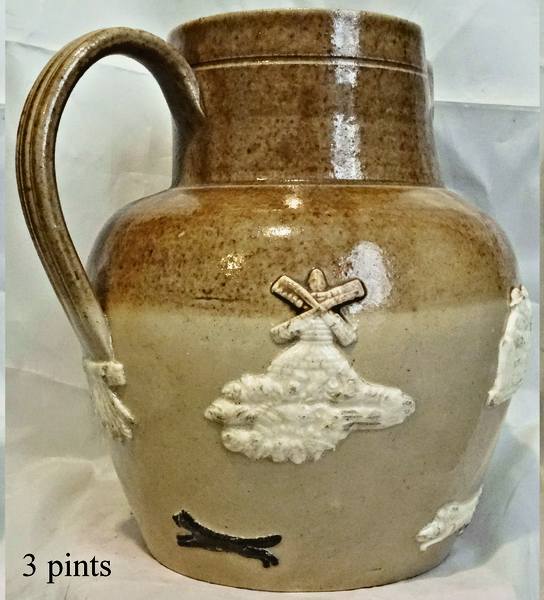 Similar shape but standard two tone brown. Late 19th or early 20th century?
They must surely be from Derbyshire but are they Denby , as suggested by Graham and Alva Keyes in their book "Denby Stonewares", 1995 or from Brampton/Chesterfield?
All have the same handle terminal of ears of wheat, not seen on regular Denby products. Although the body sprigs, particularly the windmill and vicar and clerk appear to be the same as on many Denby products, closer examination shows most to be different.
Click button below for images of sprigs used by Unidentified maker 4.
Recent discovery.
The very unusual sprig of a fiddler playing to a caged bird on this 5 pint jug dating from the 1890s also appears on the dark coloured 5 pint jug. Its shape and colour scheme would appear to confirm that Unidentified 4 is from Brampton/Chesterfield rather than Denby. This sprig has been described as representing Blind Jack of Knaresborough, the extraordinary John Metcalf (1717 – 1810). Wikipedia: https://en.wikipedia.org/wiki/John_Metcalf_(civil_engineer) Although Metcalf did make his living, when young, by playing the fiddle, I haven't seen any contemporary image to confirm the attribution.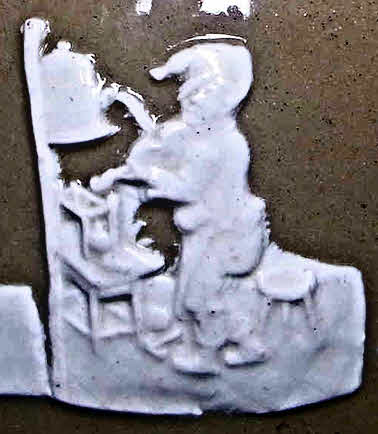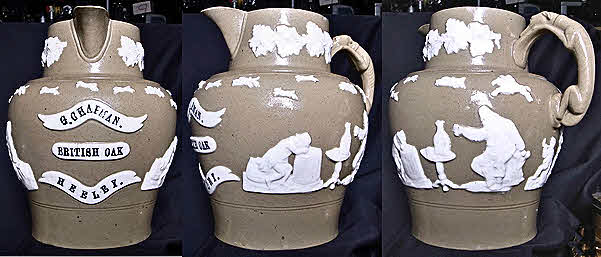 As suggested above the evidence points to Chesterfield rather than Denby but can we refine things further? A long lived pottery probably operating from the 1830s into the 20th century. Pearson might seem a good candidate but through a combination of small things, I would risk attributing Unidentified 4 to Knowles. Luke Knowles and George Knowles operated the adjacent Welshpool and Payne Potteries from the late 1820s. They merged in 1879 and were taken over by Barkers in 1914. They made a very wide range of products and some high quality marked pieces are known. Click to view Knowles made tea pot in private collection.