For Coin, Token, Banknote and Medal collectors in the Hornchurch, Romford and Upminster area
Article from our Australian member Colin Thomas on the new style banknotes. First published in the Collector on September 2000.
The 1988 Polymer Banknote By Colin Thomas
In 1983 Australia issued the world's first polymer banknote when the $10 (ten dollar) commemorative for the bicentenary was released by the note printing branch of the Australian Reserve Bank. The technology in designing and eventually producing this banknote had taken years of experimentation.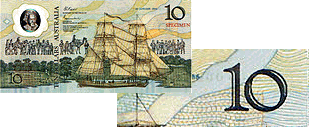 The Commonwealth Scientific and Industrial Research Organisation, together with the Reserve Bank, brought to the public a radical change in note printing and production. A change, which ultimately saw the entire range of Australian banknotes, change to the polymer material.
Returning to the first polymer note of 1988, it was designed by Mr. Harry Williams who had assistance from staff in the note printing branch. Possibly the most startling aspect of this note is the OVD or optical variable device, showing a portrait of Captain James Cook. This, instead of the usual watermark, can be viewed from both sides of the note and diffracts light to form varying colours, making it virtually impossible to forge. The surrounds of Cook's effigy forms a transparent window. All current Australian banknotes have this 'view window" now incorporated into them.
The idea behind the polymer banknotes was to produce an item which was not only impossible to forge but which also had a longer life cycle than the then current paper notes. Whilst this was, to a certain degree, achieved, there have been complaints that polymer banknotes crease easily and once creased cannot be uncreased.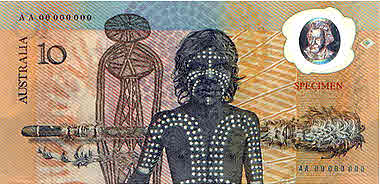 The obverse of the 1988 note depicts a cross-section of early settlers with the ship Supply lying at anchor in Sydney Cove. The first fleet of settlers having arrived in Terra, Australis on the 20th January 1788. On the obverse of the note the design recognises the original inhabitants of this Great South Land, showing a decorated Aborigine boy, artifacts and an artist's rock painting.
Special issues of this note were sold for $14 each, neatly packaged in a folder. These issues are the only notes to have the date ? 26th January 1988 ?relating to the actual date when the ship sailed into Sydney Cove six days after landing at Botany Bay, then considered unsuitable for settlement. This same special issue note has the prefix AA in front of the serial number. Normal issue notes for the general public began with the prefix AB and have no date on them. This design of note was only available for the one year 1988 and has since been replaced by an entirely different design.