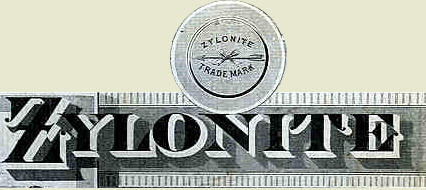 This site is dedicated to the memory of a once great nineteenth century manufacturer of plastics, now largely overshadowed by its more fortunate, and enduring, contemporaries.
The content of this web site has been extracted from the web, and further illustrated from the author's personal collection of products of the American Zylonite Company.
The history of the American Zylonite Company is closely associated with the history of the Cities of Adams and North Adams, Massachusetts. For this reason, there is also a page devoted to both cities.
It is suggested that the reader follow each of the links, on the left, in the order shown.
I hope that 'Celluloid' enthusiasts will not be offended by my making the 'Celluloid Company' the villain of the story.
---
Webmaster: Harold Mernick
email to: harry@mernicks.com
Site Hosted by: www.mernicks.com at www.mernick.org.uk/zylonite