Duchy of Lancaster
The Duchy of Lancaster is an ancient institution dating back over seven centuries. Click on the following link to view the History section of the Duchy of Lancaster website.
http://www.duchyoflancaster.com/about-the-duchy/history/
Originating in a grant of land made in 1265 to a Plantagenet prince, the Lancaster inheritance was raised to the status of a Duchy in 1351. The Duchy merged with the crown in 1399 when Henry Bolingbroke, Duke of Lancaster, became King. Today, the Duchy exists to supply funds for the running of the Monarchy. The land forming the estates owned by the Duchy is 'State' property - it cannot be disposed of.
The following text is taken from 'English Seals' by J. Harvey Bloom M.A. (published by Methuen in 1906). The Coat Of Arms image is courtesy of Vector-Images.com.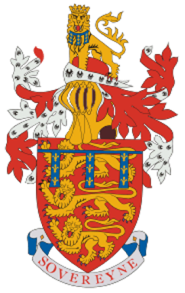 The Duchy of Lancaster has an interesting series of seals of its own. Those of earlier date give the principal place to the arms assigned to the duchy, which are in reality those of Henry, first Duke of Lancaster, viz. the quartered coat of England differenced by a label, which label was afterwards charged with three fleur-de-lis. The shield is generally placed between ostrich feathers, but these are not held by the seated lions, which appear upon the privy seals. Under Mary the feathers are charged with the letters M.R.D.L., which stand for Maria Regina Ducissa Lancastrić (Mary, Queen, Duchess of Lancaster). Under Elizabeth the feathers bear the letters I.C.D.N. (Ich Dien); under James I there is a reversion to initials, which, however, are placed not upon the feathers, but in the field. James II added greyhounds supporting single ostrich feathers to either side of his shield, in uniformity with his privy seal.
We find under George IV a completely new type. The king is now represented (as in his great seal) enthroned and wearing his full regalia. On either side the lion and unicorn hold banners with the royal arms and those of the duchy, while in base is a wreath of the national flowers. The duchy seal of Queen Victoria is of similar type, but allegorical figures of Faith and justice are added on either side of the throne. The reverse follows the old type with a coat of arms, ostrich feathers, and crest, and the legend: SIGILLUM : DUCATUS : LANCASTRIĆ; a letter seal with the arms within a garter is also used.
---