Beyond Collecting
by John Roberts-Lewis
Finding out additional information about coins and tokens adds a great amount of interest to collecting. For those who know little about British eighteenth century tokens, it may come as a surprise that there is anything substantial left to discover. The series was keenly collected from the time tokens were being issued in 1787, yet over two hundred years later for many of them we don't know much if anything about the issuer, designer, die cutter or who struck them.
Catalogues are excellent for type and variety descriptions, but have had little room for biographical details, with a few exceptions, most of those being published in the last twenty years. There are large volumes of national and local archives whose relevant references, especially of a non-numismatic nature, can add factual details, as well as social and economic background when recognized as such.
Some brief notes on the common halfpennies, known as "Mail Coach tokens" may illustrate some of these points. The tokens are associated with John Palmer, though he did not issue them. Famous in his day the following account tells us why.
| | |
| --- | --- |
| | |
| Obv. D&H 363 - Coach | Rev. D&H 363 - Dedication |
On 2nd. August 1784 an experimental journey began from the "Rummer" Tavern in Bristol at 4.00 pm. The coach reached the "Three Tuns" in Bath at 5.20 p.m. and traveling overnight arrived in London at 8.00 a.m. at "The Swan with Two Necks" Inn. Palmer had predicted a sixteen hour journey which the Post Office Surveyors had said was impossible. Their mounted 'Post Boys' were taking nearly two days to carry the Mails from Bath to London. Palmer knew how to operate a fast system of chaises between Bath and Bristol in order to get a quick exchange of actors and properties. Also with road improvements the public stage coach took seventeen hours for the journey to London. Palmer's success and adoption of his methods led to his appointment as Comptroller-General of the Post Office. A network of routes served by dedicated Mail Coaches spread rapidly.
The undated token shows a coach with the Royal cypher on its door and is a type patented by John Besant., to replace less suitable vehicles. On the reverse are the initials J.F. below the dedication to J. Palmer. Presumably the initials of the issuer who is unknown. A possibility is suggested by an engraving of an Inn scene having a dedication to Palmer. The name depicted is named as "James Fittler", perhaps the Inn keeper? The Inn sign shows "an elephant welcoming a mail coach".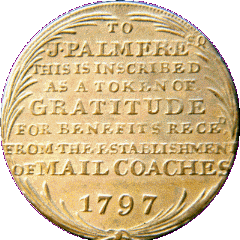 Rev. D&H 364 - date 1797 below dedication
Another version of the token is known with a reverse in which 1797 replaces the letters J.F., two different reverse dies are recorded. Tokens had been the subject of complaints for several years and 1797 was also the date of Regal pennies and halfpenny pieces known as "Cartwheels". This was the first Regal copper for over 20 years and it was followed in 1799 by halfpennies and farthings. By the end of the century tokens were no longer acceptable.
| | |
| --- | --- |
| | |
| Obv. D&H 366 - Mail Coach | Rev. D&H 366 - AFH Cypher |
The final token in the series is undated, its Mail Coach obverse is similar, but the inscription is different. The reverse has the cypher AFH which has been linked to Anthony Francis Holdinhand a London merchant of 51 St. Mary-Axe. If he was the issuer he didn't intend to be traced for his tokens to be redeemed. This was one of the main complaints and as can be seen none of these Mail Coach issues has his address.
It is worth looking at one relevant nineteenth century token since in 1811 there was a repeat of the shortage of small change giving rise to more token issues.
| | |
| --- | --- |
| | |
| Obv. Withers 840 (Davis 64) - Swan with two necks. | Rev. Withers 840 (Davis 64) - Mail coach |
This undated halfpenny depicts the sign of the Inn which had been the arrival point for the Palmer's historic journey and was subsequently a main London terminus for Mail Coaches. A main contractor's office was there and also route sub-contractors. The two necks is thought to have originated from a swan with two nicks on the beak for ownership. Davis (1904) gave the impression that this was the King's mark, but Withers (1999) tells us it was used by the Company of Vintners, the Monarch's swans being unmarked.
W.W. the issuer was assigned to the Inn proprietor by some or to William Waterhouse a mail contractor by others. An article in 1986 by the great-great-great grandson of Waterhouse, who is not a numismatist, gives some detail and documentary references in support of his ancestor who was the main Mails contractor from 1792 to at least 1828.
The coach on the reverse has the Royal Mail cypher. Besant the patentee had died in 1791 and his partner John Vidler continued the contract. He was followed by his sons in 1810. who continued the supply of coaches and their daily servicing. Trains began to take the business from 1830 and the last Mail coach ran to Norwich in 1846.
More can be written on this story which is better known than most issues.
References.
| | |
| --- | --- |
| | Davis 1904 - The 19th century Token Coinage. |
| | Dalton & Hamer 1910 - The Provincial Token Coinage of the 18th Century. |
| | Coins and Medals Vol 11, No. 1 and Vol 27 No. 7. |
| | Post Office Archives Information Sheet No. 8 (1990's) |
| | Seaby's Coin and medal Bulletin may 1986. |
| | Paul & Bente Withers 1999 - British Copper Tokens 1811-1820. |