Robert W. Coan's aluminium foundry in Clerkenwell, just to the north of The City of London, produced aluminium castings for the motoring and aviation industries from the start of the 20th century. They also made a variety of small cast aluminium trays, boxes etc. for industrial exhibitions and as gifts from Mr Coan. They include items for the Kings Cross Philanthropic Society and later The Clacton Bowling Club – Mr Coan being Chairman of the former and President of the latter. Many are still to be found at quite low prices. If you have an example listed here with a blue border around the picture or one not included at all please let us know.
Robert John William Coan was born to parents Robert (Boot manufacturer) and Sarah Coan in Islington in 1863 and baptised on the 16th October 1867 at St Judes Church, Grays Inn Road. He was married twice, in 1887 (Holborn) and 1903 (Bushey). He died at a residential home in Canonbury, on the 14th of April 1930, leaving a widow and a married daughter, although he had lived in Clacton for many years. His obituary in The Chelmsford Chronicle gave his address as Linkwood, Arnold Road, Clacton. His will was published on the 25th July 1930, when his estate was valued at £64,344.
For an article from the Islinton Archaeology and History Society Magazine Spring 2015, giving more detail - click thumbnail below to view a PDF.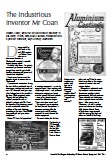 Factory locations - from Post Office Directories
R.W. Coan, Aluminium Manufacturer
1902 - 1904
15 Myddleton Street
1905 - 1924
219 Goswell Road
1920
219 Goswell Road & Coans Yard, Duncan Street, Islington
R.W. Coan Ltd
1925 - 1927
219 Goswell Road
1928 - 1930
Coan House, Duncan Street, Branch Office 219 Goswell Street
1931 - 1969
Coan House, Duncan Street
---
Click thumbnail below for an extensive selection of images of Coan's novelty alumnium castings.
---
This web site is hosted by www.mernicks.com at www.mernick.org.uk/Coan/
Contact email:
harry@mernicks.com