John Bacon and the agricultural implement jugs.
John Bacon and the agricultural implement jugs, by Phil Mernick
The late Ivor Noel Hume (INH) published John Bacon: Prince of Stoneware Potters? in the 2005 issue of Ceramics In America (Robert Hunter Ed.). The article describes how he purchased in England, in 2004, a large, two gallon capacity jug decorated with a variety of sprigs including those of agricultural implements. The jug, more importantly, also bore several inscriptions.
JOHN BACON / AVLEY type impressed on the front.

Drink and Be merry / And Never be Sad / 1842 in cursive script to one side of the neck.

Good luck to the Farmer / Augst 20th 1842 in cursive script to the other side of the neck. The 4 appears to have been inscribed over a 5 (or vice versa).

1842 / A present / from John Bacon / Potter Bradley / Nr Bilston / Stafordshire (sic) in cursive script on the base.
Avley is Alveley, Shropshire about 16 miles from Bilston.
Click strip image to magnify.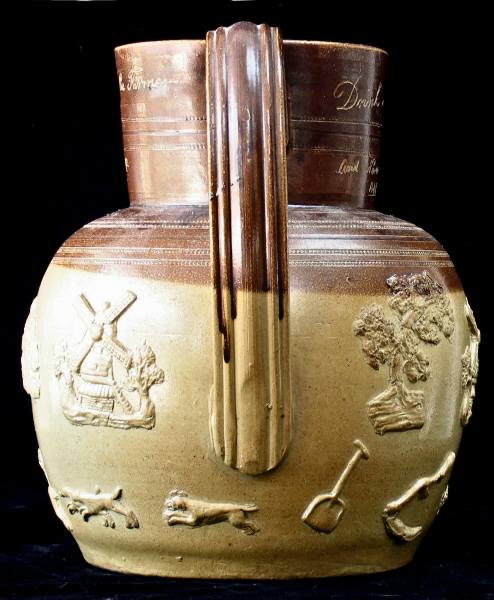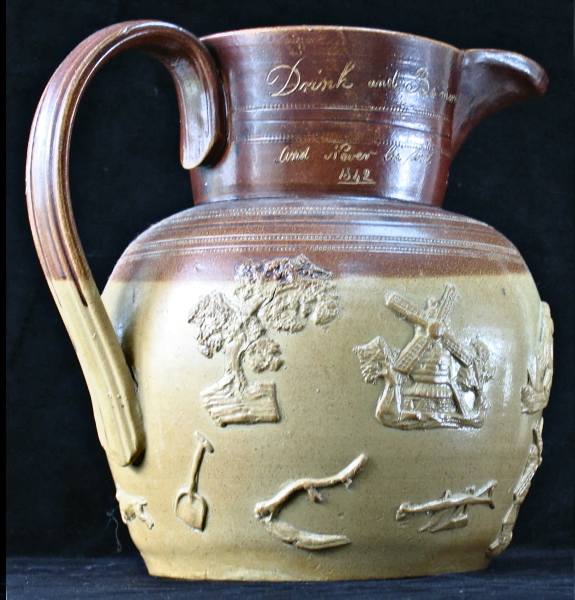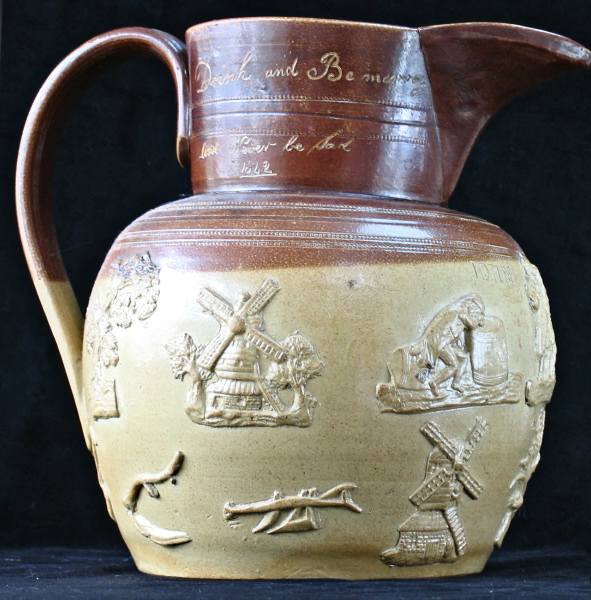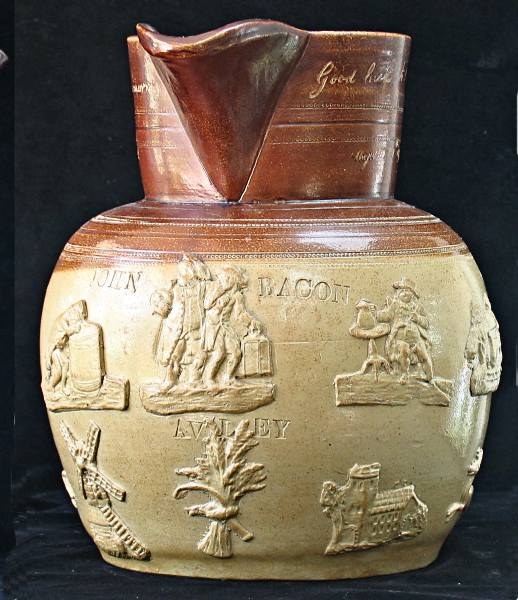 This introduced us to John Bacon, a potter at a Bradley (near Bilston) pottery. With his usual detailed research, INH found biographical details of a John Bacon, potter (Click button below for a biography) and the Bradley pottery (Click button below for details of the Bradley Pottery).
Later the same year he acquired, from an auction house in Boston Massachusetts, another even larger (four gallon) John Bacon jug with agricultural implement sprigs and inscribed as follows
Type impressed on the shoulders MRS ROBERTS / BARRELL INNBAGWORTH 1849 type impressed below a sprig of the British arms on the front Made by John Bacon / at Bradley Pottrey / 1849 on the bottom Bagworth is in Leicestershire approximately 30 miles east of Bradley.
Click strip image to magnify.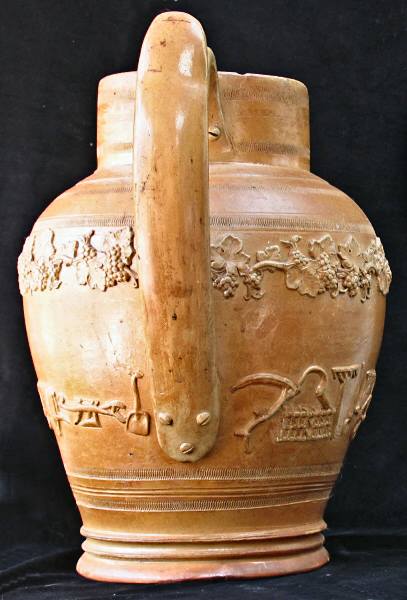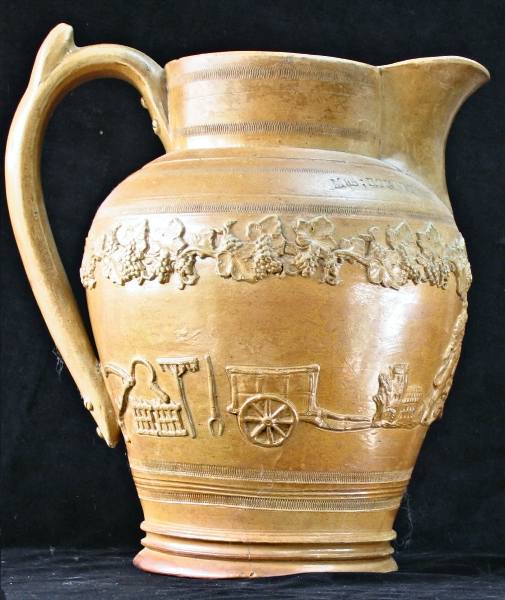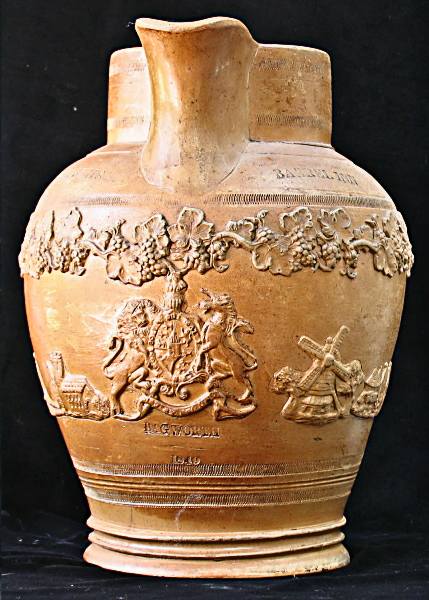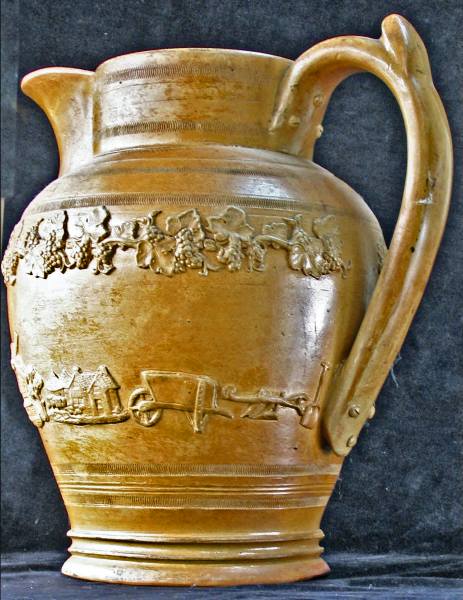 INH also associated these two jugs with a agriculturally sprigged tankard in the Ashmolean Museum, Cambridge, with Mr Cockayne / Gamekeeper / Beandes / Augt 13th 1849" inscribed on its base.

INH believed that the tankard's inscription and those on his two Bacon jugs were all inscribed by the same person.
Beandes was identified by Nicholas Johnson as being the estate south east of Cannock where Cockayne was recorded as working. Cannock is only 11 miles from Bradley
INH also recorded a tankard in Tony Poucher's collection (See image strip below), and the article's footnotes mentioned two additional agriculturally sprigged items illustrated in English Brown Stoneware Brown Muggs etc edited by Robin Hildyard. They were attributed there to Bristol but the illustrations were too poor to enable detailed comparison with the Bacon jugs. (see images below). More detailed images of these can be seen in the album following as A8_bm204.jpg and Puzbm205.jpg
Click strip image to magnify.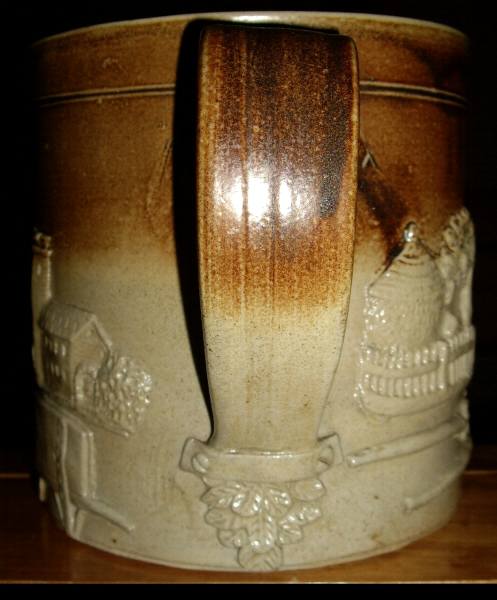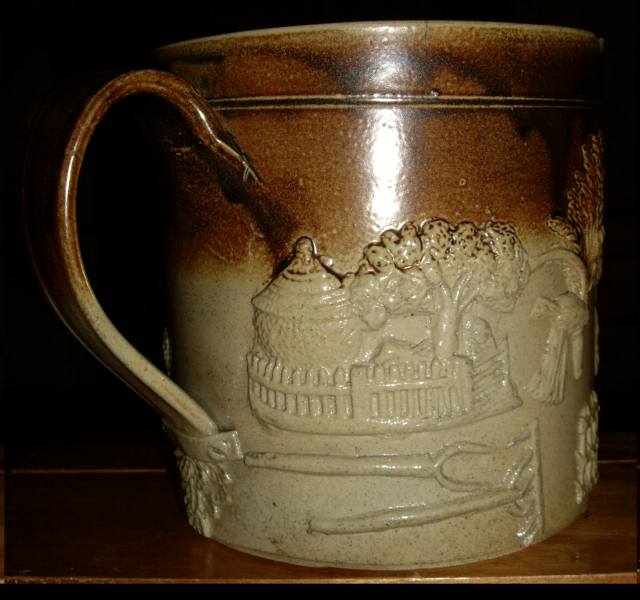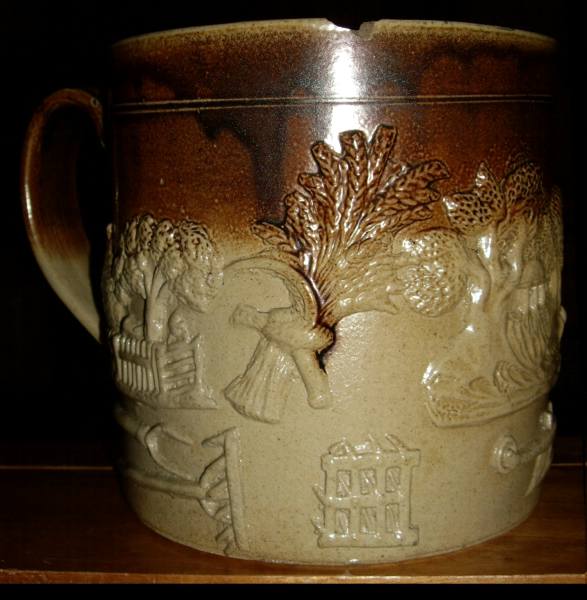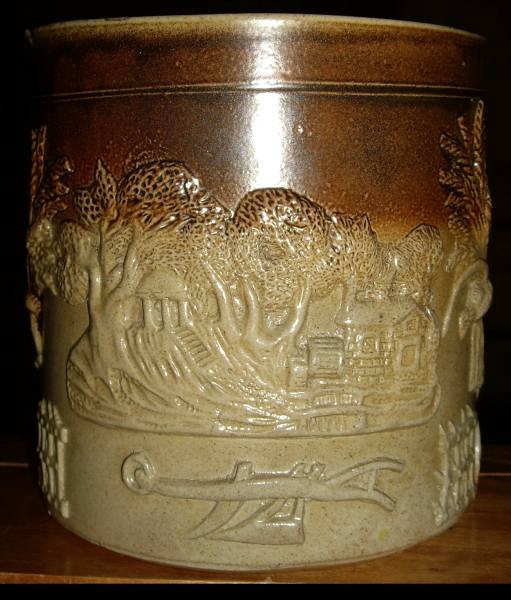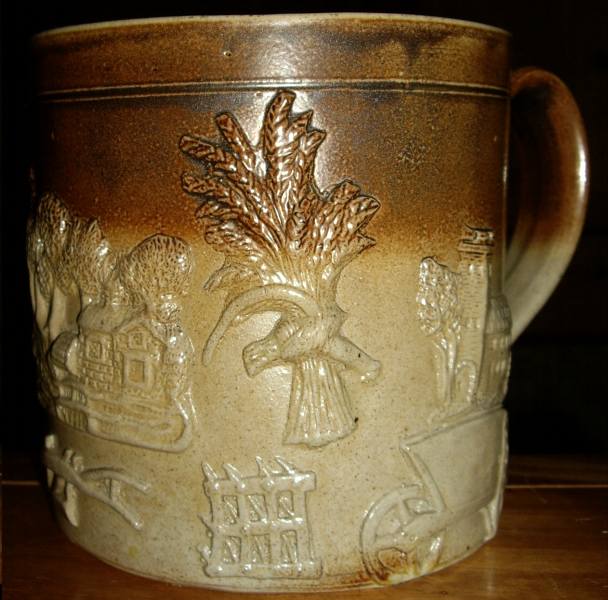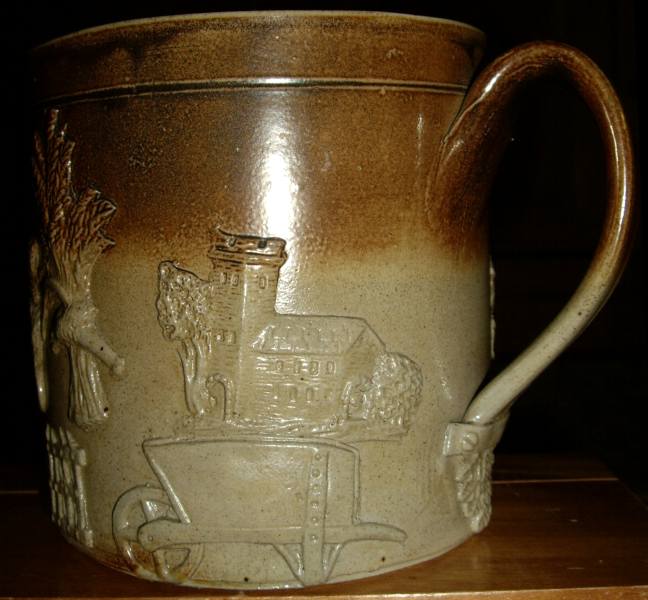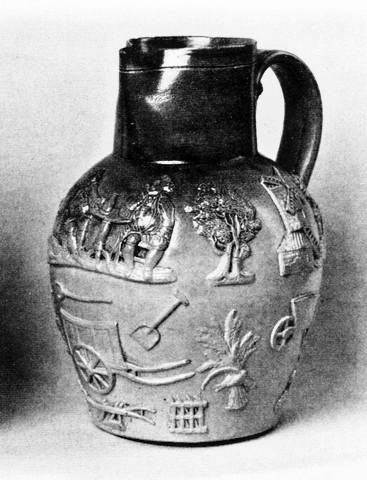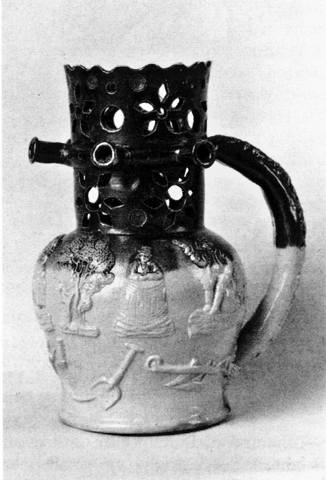 After the publication of John Bacon, Prince of Potters, INH acquired several more examples but didn't publish them.
Later acquisitions A2_k7.jpg, A3_k8.jpg, mug_k.jpg in the below listed album.
Although no additional Bradley Pottery marked pieces have surfaced, I have expanded the number of agriculturally sprigged pots known to more than thirty. In addition, it has become clear that there are many more traditional sprigged pieces almost certainly from the same source.
John Bacon clearly existed as a potter at Bradley but can all of these additional pieces be attributed to this hitherto obscure local establishment? Wolverhampton Museum has a wide range of pots attributed to the slightly later Bilston Pottery but no examples with agricultural sprigs.
If they had been the source of so many finely made wares surely Llewellyn Jewitt would have mentioned it in his 1877, extended 1883, The Ceramic Art of Great Britain.
Items with agricultural implement sprigs. (Album of images)
Do all of these items come from the same pottery and is that Bradley?
The jugs etc included in the above album utilise three groups of handle terminals. There are also a few without any sprigged terminal.

Of the 36 items recorded in the album 24 have leafy terminal 1&2, only one has terminal 3, three have terminal 4 (including the important inscribed and dated tankard in the Ashmolean Museum) and eight have no sprigged terminal. Leafy terminals were used by many potteries across the UK and are of little help. The other two terminals are unusual and I have recorded three non-agricultural jugs with terminal 3 and only one non-agricultural jug with terminal 4. These can be seen, with others linked by body sprigs in the album below
Going back to "agricultural" items, as the size increases there is more space for non-agricultural sprigs and some are sufficiently distinctive to identify a lot more examples. Although almost every sprigged jug, mug etc. ever made includes one or more trees the group below, found on "agriculturals", especially the first two, have proved indicative.

These other unusual sprigs can also serve to identify.

Album of items without agricultural sprigs but probably from the same pottery (Album of images)
Conclusions
The census data suggests that John Bacon may have left Bradley after the Myatts moved to Bilston, so was he a Journeyman rather than a Prince? It seems unlikely that so many well-made items came from such an obscure pottery - a London or Bristol origin seems more likely. However, George Crickmay's Weymouth pottery (link to Crickmay listing) shows that an obscure pottery can produce good quality London style stoneware.