From Glasgow to Mortlake (a possible connection) by Derek Loader.
I have been collecting stoneware hunting jugs, tankards and associated wares for the last 15 years. During this time, I have developed a special interest in the wares of the Mortlake potteries of Thameside London, or at least that was what I thought they were initially. Many of them are impressed or incised with the name of Kishere, which is synonymous with the Mortlake potteries, and anything else unmarked has been attributed mainly to the Sanders pottery. In fact, there is very little evidence to prove the provenance of the other so-called Mortlake pottery pieces, despite these having been attributed to Mortlake by many publications on the subject over the past forty years or so.
If you compare the sprigs on a large range of jugs they will appear to be similar to those on other so-called Mortlake jugs. However, upon checking whether the other sprigs on such jugs also appear on marked jugs such as Kishere (as this is currently the only known marked Mortlake product), and having made comprehensive and detailed comparisons, I am not convinced that all of these jugs come from the earlier Sanders potteries and their successors, including Vauxhall etc.
There is no easy way to approach the research of these jugs. It is a complex subject, constantly evolving as more newly discovered pieces come to the market. Before I add my own thoughts to the bigger picture I should like to acknowledge the truly brilliant research carried out by Philip Mernick, the author and administrator of the Brown Jugs website, which in my opinion is currently the best reference source available.
Research No. 001
Jug A
Jug B
Jug C
My collection includes the three hunting jugs shown above. All of them are what I would loosely call Mortlake-style jugs and date to the late 18th or early 19th centuries. They all have reeded necks and feature central punch party plaques as well as hunting scenes. Various publications, magazines, E-bay listings and the like, attribute such jugs to Mortlake, Kishere or Sanders potteries.
Jugs A and B have what I would consider to be a rare and much more unusual central punch party plaque. This plaque can be seen on Phillip Mernick's Brown Jugs website, under the Mortlake section, as 'Rare variation of the punch party', see fig. 1.
Figure 1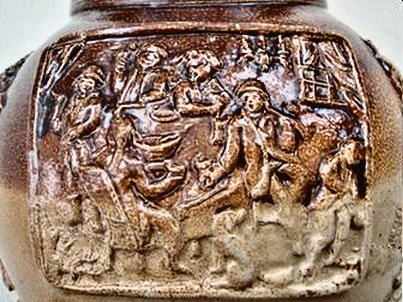 Rare variation of the punch party
Turning to the central punch party plaque on jugs A and B, it is noticeable that on jug A the sprigs are much crisper and may be earlier. The following sprigs appear to be the same on both jugs: toby, horseman, large tree, dogs (on jug B you can even see their rib cages), and fox (with unusual pointy ears set far apart) and a post type windmill (see fig. 2).
Figure 2
Toby
Rider
Large Tree
Dogs (pair)
Fox – unusual pointy ears
Post windmill (not recorded?)
Smoker on box
The post type windmill on jugs A and B (see fig. 2, photo 6) is similar in style to Mortlake type 1A (see fig. 3) but differs in several ways: the roof has a curved profile, the window and door have rounded tops, and the ladder against the right-hand post is very heavy and pronounced. This windmill appears on Caledonian jugs and mug, see Mernick, Robertson col, Brighton 321210.
Figure 3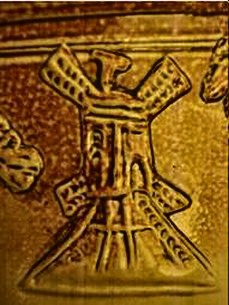 Mortlake Kishere (see Mernick)
Jug A has an unusual sprig of a smoker, in that he is seated on a box rather than a barrel (fig. 2, photo 7). It also features a bunch of grapes like those which appear on Caledonian jugs, fig. 4. Also see Mernick 53.
Figure 4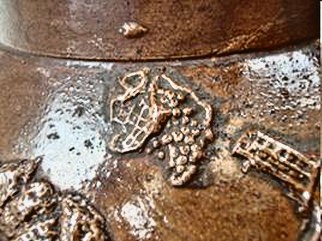 Grapes
Jug B also has sprigs of a bushy tree with no trunk, and a Cupid, see fig. 5, both of which appear on Caledonian jugs. To my knowledge, the sprigs found on these jugs do not appear on Mortlake, marked Kishere/ Vauxhall, or on what are thought to be Sanders wares.
Figure 5
| | |
| --- | --- |
| | |
| Bushy tree | Cupid |
Curiously, if you look at the punch party sprig on jugs A and B, to the bottom left-hand side, and turn each jug on its side, almost hidden, you will see a prancing deer. Could this sprig be designed to identify the potter/ mould cutter/pottery ? Could these two jugs be from the Caledonian pottery in Glasgow Scotland ? See fig. 6.
Figure 6
Prancing deer
Moving on to jug C, which may or may not be from the same stable, I believe this jug to be earlier in date than jugs A and B.
Let me start with the central punch party plaque of accepted Mortlake standard type, see Mernick. I actually have a tobacco jar in my collection with an identical plaque, albeit the jar is a known Caledonian piece. This raises the intriguing question as to why the Caledonian pottery appears to have been using Mortlake/London sprigs. Did the potters move around from pottery to pottery or did the mould cutters move around and reproduce their moulds in other areas of the country? Certainly, the punch party plaque on my Caledonian tobacco jar appears to be a dead ringer to the Mortlake one, rather than someone trying to make a near copy.
The toby on jug C is identical to those on jugs A and B. The smoker sat on a box is identical to jug A, the dogs, the fox and the rider are also the same as jugs A and B. The bushy tree also appears on jug B.
Jug C has an unusual tavern plaque which, I think, is for the Rising Sun Tavern or Inn, see fig. 7.
Figure 7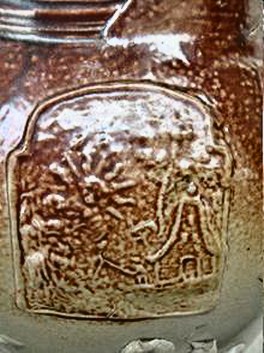 Rising sun
This plaque also appears on a tankard illustrated in Derek Askey's Stoneware Bottles, page 134. It is impressed with Ino Cox and dated 1756 Bromley, which is in London, so you would think perhaps it is a London-made tankard. This may shed some doubt on my theory as to the Caledonian connection but other than that they all seem to interface. The Rising Sun tankard looks to be that period, 1756, so either my Jug C is older than I thought or the sprig moulds were used for a long period of time. Was it the same Rising Sun that Jug C was made for?
Some other interesting points on the above jugs A, B and C.
The Caledonian pottery was established in 1790 so the time frame could be correct, see Askey's Stoneware Bottles 1500-1949, page 192, for history.
I've come across two other jugs with tavern plaques of a Native American, see Mernick (Mortlake), which also have the following sprigs from jug A: toby, large tree, rider, fox and dogs, smoker sat on box, also sporting the drunken boors plaque associated with the Mortlake potteries; so, these would appear to be from the same pottery, see fig. 8.
Figure 8
Drunken boors
Another interesting feature of jugs A, B and C, as well as other jugs I have seen of this type, is that the thumb-pressed handle terminals have an evenly folded excess of clay, with very even sides, lifting slightly away from the body, see fig. 9.
Figure 9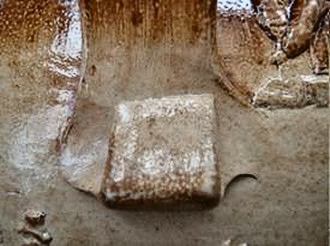 Handle terminal
I will leave you to make up your own mind. I'd be very interested to receive your observations or comments, positive or negative, especially if you have any examples to add to the melting pot of knowledge.
I can be contacted by email via Philip Mernick (email phil@brownjugs.org.uk) or direct at derekloader3@btinternet.com
Thank you.
Derek Loader