Brampton (Chesterfield)
Click on one of the buttons below to view the page.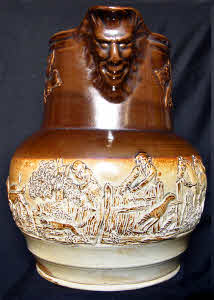 Universal British Directory 1791
Chesterfield: Ten potteries, chiefly of Brownware are established here.
Potters listed: Blake R, Blake William, Briddon William, Cartledge, Ford, Hardy Thomas, Sanforth Samuel, Wingfield William, Wright Edward, Wright John.

Pigot and Co's 1835 Commercial Directory for Derbyshire
BRAMPTON is a village and parish, about 3½ miles W. from Chesterfield. At Brampton-moor are extensive stone potteries, belonging to Messrs. T. Oldfield and Co., Messrs. H. and S. Briddon and Mr. J. Wright; Mr. W. Briddon, at Walton, and others; at New Brampton, are iron works, and in the neighbourhood is a coal mine."

19th century wares are generally unmarked with the exception of those by S&H Briddon. Marking with the manufacturers name becomes more frequent as the 20th century progresses.
Probable manufacturers of brown stoneware sprigged jugs include
Barker
Samuel & Henry Briddon
Thomas Oldfield
James Pearson
Walton Pottery
It is currently not thought feasible to attribute products to individual potteries. Much work remains to be done but the picture that is emerging is one of cooperation and collaboration between the owners rather than competition. The Pottery Owners Association fixed prices for standard products.
Brief history of some potteries
Briddon/Barker
Barker Pottery, Brampton. Founded c1800 by Samuel & Henry Briddon. Barker was the owner of the land where the pottery was sited. After the death of Samuel Briddon in 1860 the business was continued by his son Henry until his death in 1881. In 1920 they claimed to be the most uptodate pottery in Derbyshire. Competition from metal, glass and plastic kitchenware forced closure in 1957.
Oldfield/Pearson
Oldfield Pottery, Brampton. Thomas Oldfield and three others were in partnership in 1810 although there are records of a pottery on or near the site in 1784. The firm was Oldfield & Company from 1826.
It was taken over by James Pearson in 1884. He died in 1905 and the firm, run by Dr Goodfellow, on behalf of the widow & children, became James Pearson Ltd in 1907. The firm was absorbed into the Pearson business at Whittington and closed in 1939.
Walton
Walton Pottery, Brampton. Occupied in 1792 by William Briddon , and the Briddon family remained there until 1892. They presumably were related to the Briddons at the Barker Pottery. the firm was taken over by the Plowright brothers, who had an adjacent factory and finally closed in 1955.
The Chesterfield Museum has a jug with reversible male and female heads that has a handwritten (later) inscription on the base attributing it to the Walton Pottery. They also appear on a puzzle jug (click button below for image) so Walton may be the source of this and similar products.
Pearson & Co
Whittington Pottery, Chesterfield. Catherine Johnson (nee Pearson) owned the works from 1810. It became Pearson & Co. (Chesterfield) Ltd. in 1922, It was the last pottery in the Chesterfield area, finally closing in 1994
Sprig Moulds
The Chesterfield Museum has a large group of Plaster of Paris moulds used for making sprigs for saltglazed stoneware. They came from the Barker Pottery when it closed in 1957. They include many sprigs commonly seen on jugs, including the type of floral group that is shown on the necks of the two lower jugs on the Brampton Styles page.
Acknowledgements
The information on individual potteries is taken from Potteries of Derbyshire by Ronald Brown, Journal of the Northern Ceramic Circle, 1994

I would also like to thank Anne-Marie Knowles, the Curator of Ceramics at Chesterfield Museum, for all the information and advice she gave me and for allowing me to record the museum's collections