Billy and Charleys
(Click on an underlined term for more detail)
The objects known as "Billy and Charleys", or the "Shadwell Forgeries", are a very extensive series of fake antiquities made in Victorian London by William Smith (Billy) and Charles Eaton (Charley).
Moulded in lead or brass, they attempted to cash in on the contemporary boom in collecting early artefacts.
Click, on History for a more detailed history of 'Billy and Charley' and the objects they produced. Click on the image below to see an extensive collection of images. Click on Contributors to see a list of those organisations and individuals who have generously contributed material and allowed images to be shown on this site..
Click medallion below for images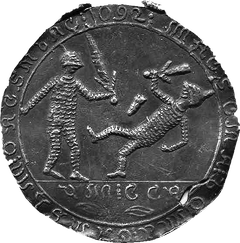 If you have a Billy and Charley that is not on this site, I would very much like to hear from you.
email: pmernick@hotmail.com
This site is hosted by mernicks.com at www.billy-and-charley.org.uk