Pub Checks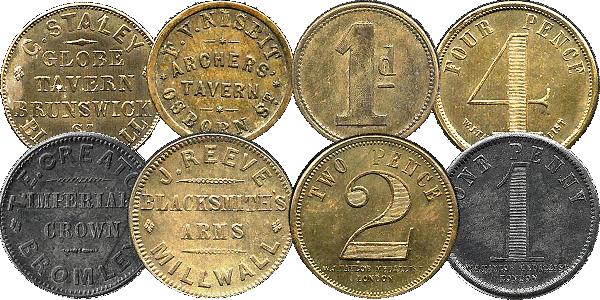 Tokens were issued by public houses throughout the country, although unevenly spread. More than a thousand are known from the Birmingham area and large numbers from Wales and the West Country but relatively few from Kent and Essex. The majority (with the exception of London were made in Birmingham. They are primarily a 19th century phenomenon, used in London between about 1860 and 1890. The standard listing of London pub checks "Hotel & Pub Checks of Greater London" by Ralph Hayes (1991/3) lists more than 750 tokens from 434 different locations. For Tower Hamlets he lists 69 tokens from 45 locations, but several more are now known. Most London pub tokens were made by W.J. Taylor but R. Neal also made a few.
Tokens are known with values ranging from one half penny to one shilling and may be made of brass, copper, or zinc.
There has been much discussion on how or why they were used and some of the reasons are listed below
Prepayment, to prevent handling of cash by bar staff.
Supply by employers to employees for refreshment at approved establishments.
To obtain refreshment as part of an entrance fee to a place of entertainment.
To avoid the gaming laws rules against cash rewards.
To provide refreshments at meetings held in rented rooms.