Crickmay Pottery
Marks from the George Hayter Crickmay's pottery in Weymouth, Dorset.

George Hayter Crickmay (1808 - 1857 lived in Melcombe Regis and owned a pottery in West Chickerell (both now parts of Weymouth).
There is no mention of him in 1848 but Hunt's Directory of 1851 has:
West Chickerell
Crickmay George Hayter, brick, pottery, and stoneware works
Here are extensive brick, tile, draining pipe and pottery works, to which has recently been added the manufacture of stone ware in all its branches.

Crickmay George Hayter, (brown and stone ware) 29 St. Thomas Street, Melcombe Regis, Weymouth
Slater's 1852 Directory has:
Crickmay George Hayter, brick, tile and draining pipe manufacturer, St. Thomas Street in Miscellaneous section

Crickmay George Hayter (building) in Surveyor & Architect section, St Thomas St
1855 Post Office Directory:
West Chickerell
Geo. Hayter Crickmay manufacturer of red stoneware potteries. The potteries (the property of G.H. Crickmay), for the manufacture of red and stoneware, and articles for sanitary purposes, form an important feature of this locality

Crickmay G.H. 54 St. Thomas St, Melcombe Regis,Weymouth

George Hayter Crickmay, builder & manufacturer of stoneware
1859 Post Office Directory:
Mrs E Crickmay, 54 St Thomas St, Melcombe Regis

Crickmay, Esther (Mrs), earthenware dealer and manufacturer of stone and pot wares, 54 St. Thomas Street
West Chickerell now Joseph Northover
George Hayter Crickmay died on January 11th 1857 and in his will dated 19/11/1856 and proved 25/07/1857 he described himself as "surveyor and potter".
His wife Esther (they married in 1829) was listed as running a lodging house in 1865 and she died in 1887.
Although the works are described as "extensive" and "important", aside from some marked bricks only three marked pieces of stoneware have been recorded. They are a small jug in the British Museum that was in the V & A Brown Muggs exhibition (catalogue page 74/183), and a loving cup and a shaving mug in private collections. All items might have been considered to be from Stiff's Lambeth pottery if they hadn't been marked. These confirmed Crickmay products may enable us to attribute additional unmarked "London style" items
Click on any image to enlarge it.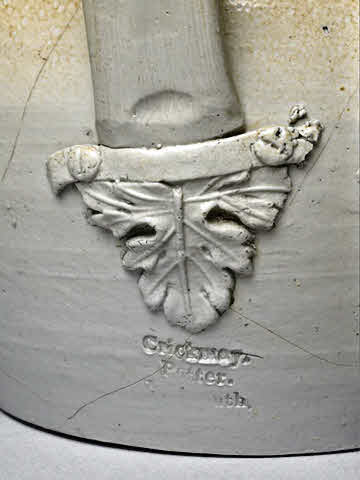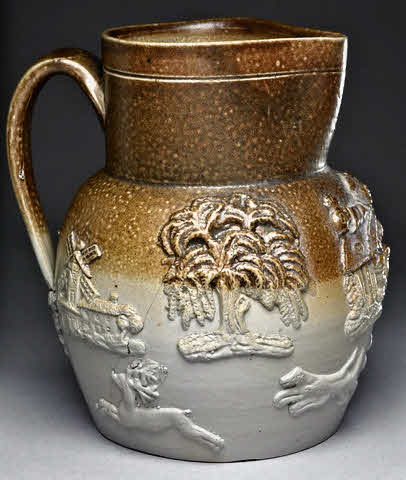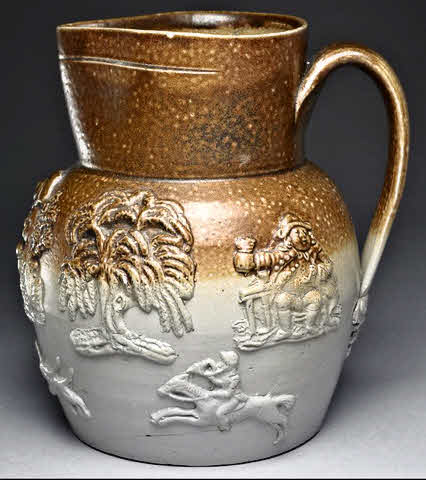 2 pint jug in British Museum, sprigs copied from Stiff
Impressed mark Crickmay. / Potter. / Weymouth.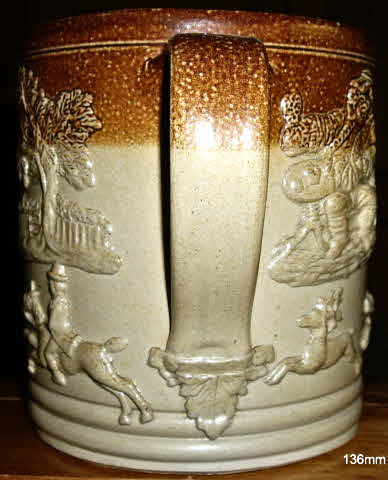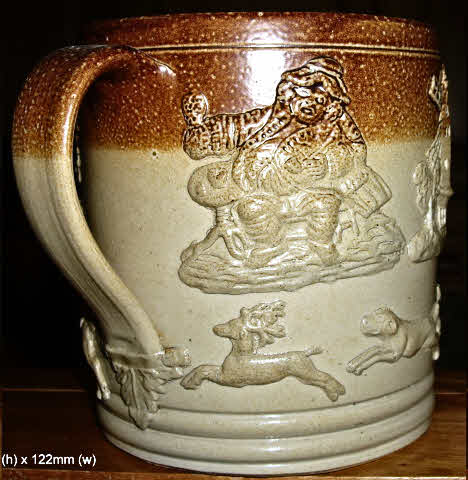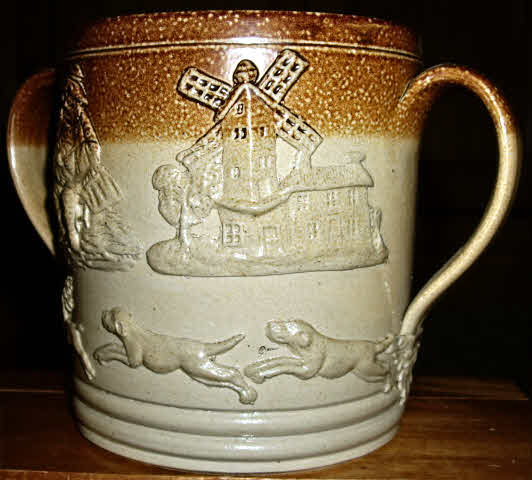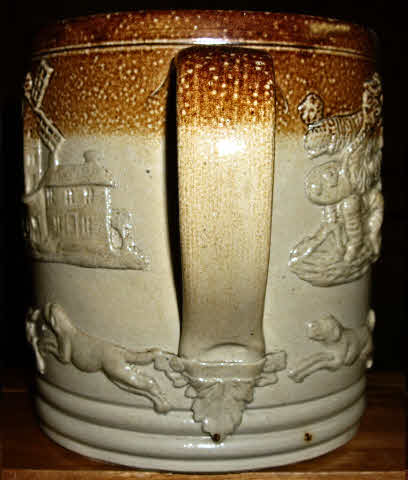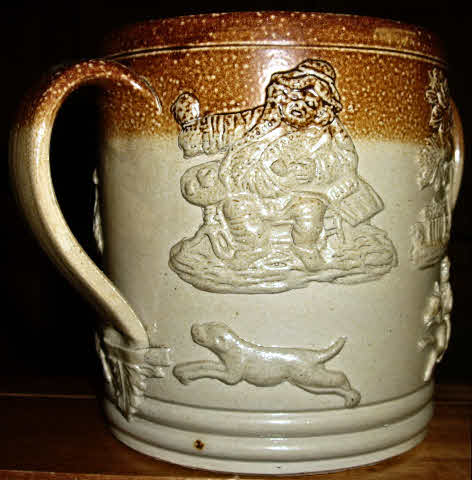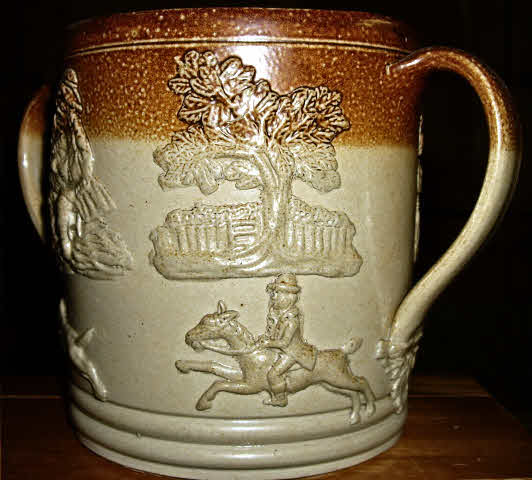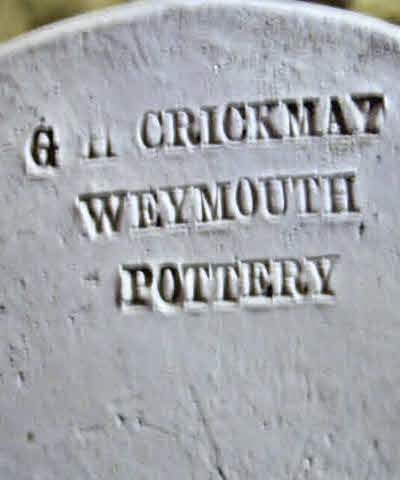 Loving cup (private collection), sprigs copied from Stiff and ?Vauxhall?
Impressed mark GH CRICKMAY / WEYMOUTH / POTTERY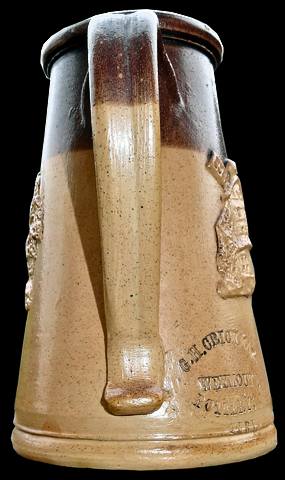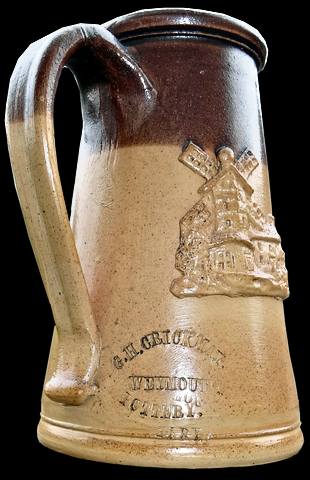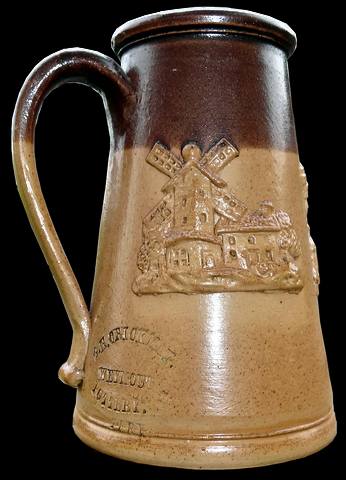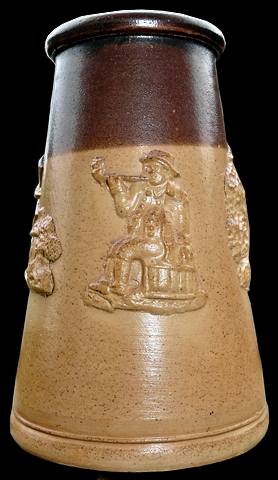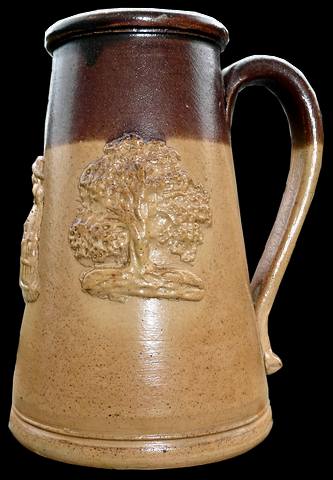 Shaving mug (private collection), sprigs copied from Stiff.
Impressed mark G.H. CRICKMAY. / WEYMOUTH. / POTTERY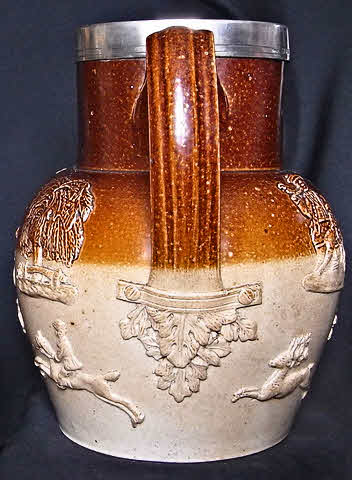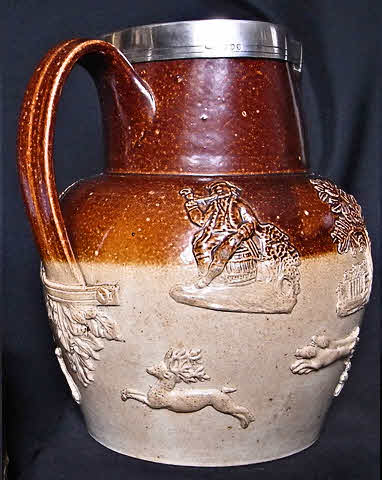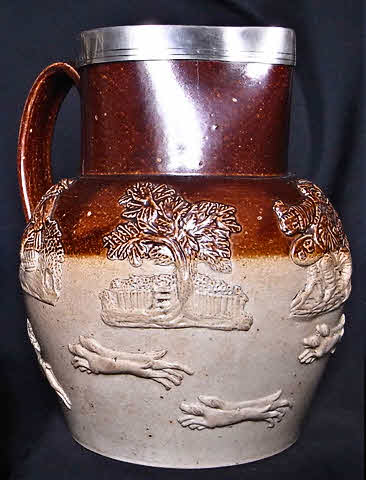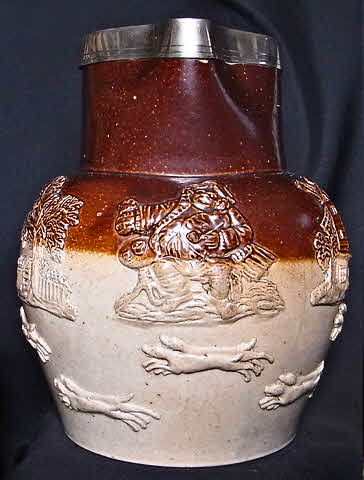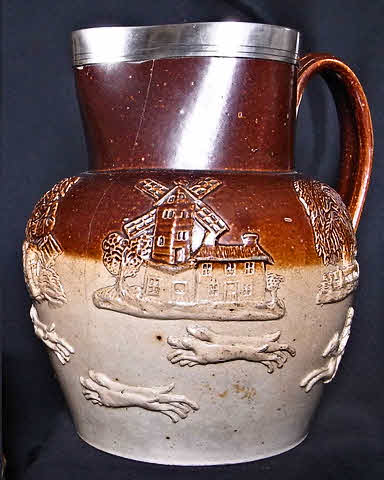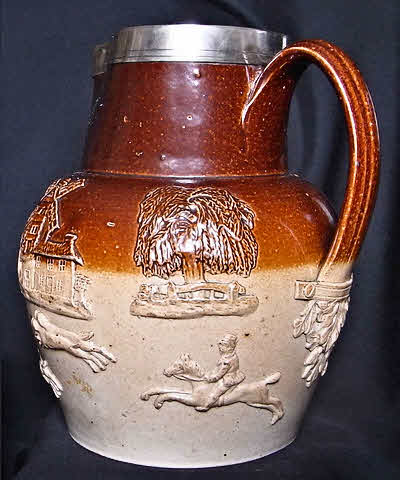 Unmarked 3 pint jug with sprigs that are so similar to those on the marked loving cup that Crickmay is the likely maker.
It has a silver rim but this must be a later addition as it is hall marked 1894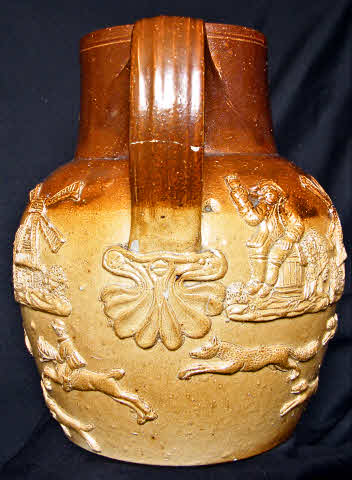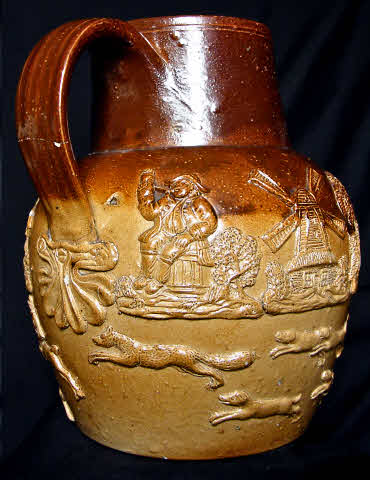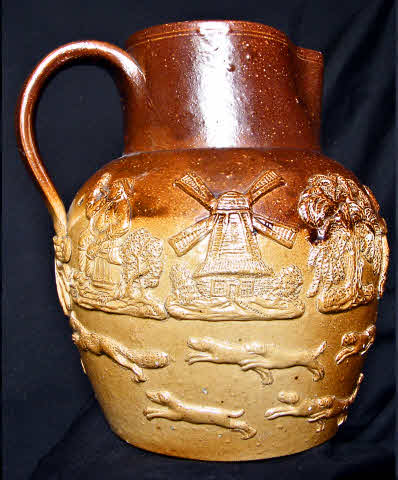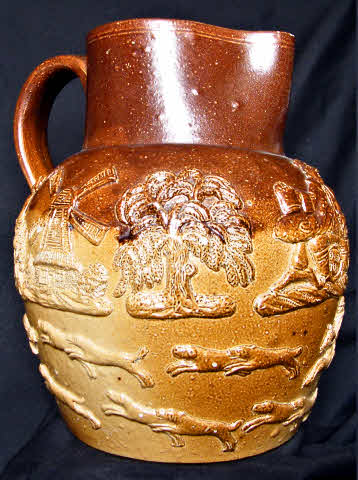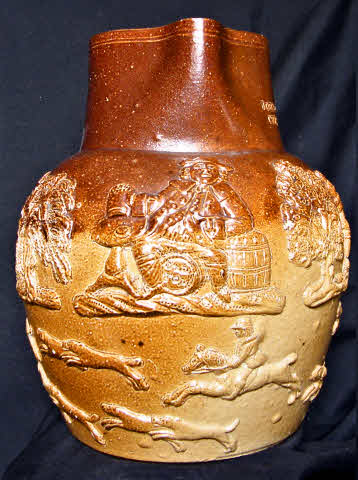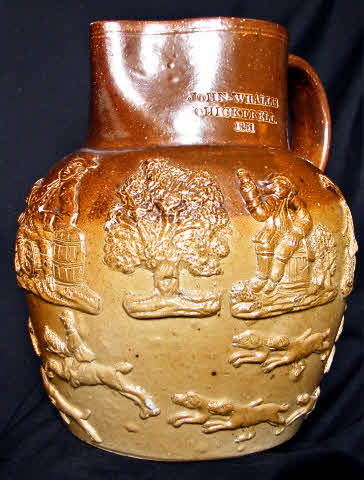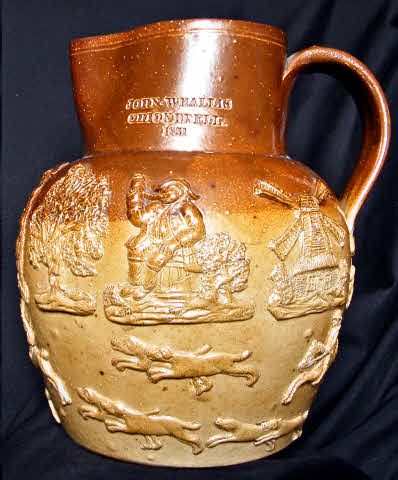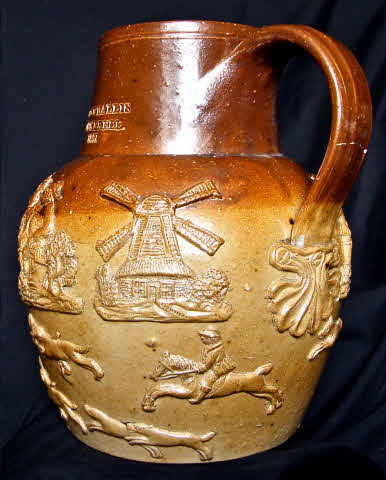 Unmarked 4 pint jug. Impressed JOHN WHALLIS / CHICKERELL / 1851
This is copied from a Fulham, or possibly Deptford original and apart from the tree has little in common with the other items. The date and inscription might, however, suggest Crickmay.